Registration Now Open For The 2017 Fantasy Football Season!
Premium Leagues are free for a limited time!
Mock Drafts Now Open!  Check out the Draft Room and choose a Mock Draft. This will allow you to get comfortable with our software so you are prepared to focus on making the best picks on when it comes to Draft Day!
Participate in as many Mock Drafts as you like; and use our draft board to evaluate which picks were taken round by round, and how situations played out based on your selections. Starting off your season prepared can be the difference when it comes to making the playoffs.
FREE LEAGUES: Free Leagues (offering the same features as traditional fantasy platforms, but designed for a seamless mobile experience) are now live.
PREMIUM LEAGUES: Premium Leagues (Private Free Leagues with access to exclusive features such as Live In-Game Substitutions) are now live.  Premium Leagues Are Now Free For A Limited Time!
PAY LEAGUES: For all of you die-hards looking to compete in the ultimate arena of Fantasy Football skill, the Paid Leagues will open on approximately 10/10/2017. Watch for a separate email alert on their availability in the next few weeks.
Ingram is rejuvenated now that Adrian Peterson has been jettisoned, and the Saints may actually start using him as a workhorse again.
Folks are going to wait and see with Hundley, who was so-so in relief of the injured Aaron Rodgers last week.
With Sunday's loss to the Minnesota Vikings, both the Green Bay Packers and my fantasy football squad were dealt the ultimate haymaker!

Returned to practice Friday
Wide receiver Kelvin Benjamin has been listed as questionable after missing practice the first two days of the week with a knee injury. That listing suggests Benjamin's status is up in the air, but coach Ron Rivera said, via Joseph Person of the Charlotte Observer, that Benjamin is expected to play. (Pro Football Talk)
FF Today's Take: Benjamin got hit on the knee last week causing a contusion on his knee. He missed practice Wednesday and Thursday but returned Friday and is expected to play. He'll be on the WR2 radar for Week 7 against the Bears.
Kelvin Benjamin: Benjamin (knee) was a full participant at Friday's practice but is listed as questionable for Sunday's game in Chicago, Bryan Strickland of the Panthers' official site reports. Visit RotoWire.com for more analysis on this update.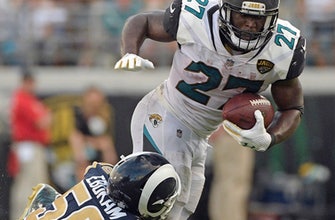 JACKSONVILLE, Fla. (AP) Jacksonville Jaguars running back Leonard Fournette could miss his first game of the season because of a sprained right ankle.